Paris often creates a beach under its cobblestones and regularly invites the ocean to its tables (La Marée with Thierry Marx, Prunier by Alleno, etc.). Mer & Coquillage, which opened a few weeks ago, is one of the best surprises of the season. It is a dream address, wanted and designed by Franck Mayo, a former figure of the Parisian nightlife, now a re-converter in the restoration who wanted here to make Parisians rediscover sea foam with some products chosen by his chef Mathieu Poirier.
Sea music in the city
A stone's throw from the Belle Époque, Mer & Coquillage is a charming brasserie that has remained hugely popular since its launch in 2014, revives the cheerful elegance of Parisian seafood restaurants, a unique genre where drizzle meets urban elegance. Between Place Vendôme and Place des Victoires, at 36 rue des Petits-ChampsCustomers are greeted with a little music from the sea in the city.
Transatlantic liner decor
Mer & Coquillage's décor echoes the city, irresistible to navigate '50s appeal and contemporary momentum. Roaring 20s spirit with coral motifs. Glamor, comfort, elegance and discretion are the keywords here.
This liner atmosphere, adorned with dim lights at night, creates an environment conducive to tasting.
We love the elegant and discreet atmosphere!
The woodwork presents her soft blonde curves, and the shimmery brown sits with leather thrills and white cotton-foam tablecloths. The mirrors invite you to get lost in your eyes, while in the evening the lights establish that special aura conducive to secrets. The service led by the tonic Pierre Boyer is conniving and ahead of expectations as well as desires, accompanied by smiling and competent staff!
Classy and discreet place. Even the storefront is behind a facade with invisible blue ceramic scales and only a discreet symbol appears on the curtain indicating we've arrived safely!
Seafood with seasonal and responsible produce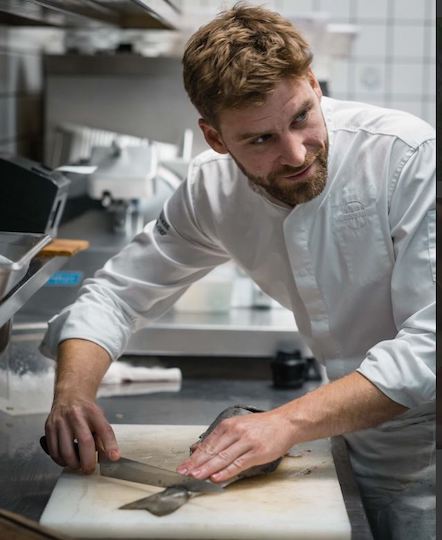 kitchen Mathieu Poirier, already in the controls of the Belle Époque and passed by Divellec ibid without forgetting Lasserre, Pré Catelan, Royal Monceau, is the revelation of a young chef. He is delighted to find himself in his element and to take part in Mer & Coquillage's demanding, seasonal, responsible and daily auction, inviting fish from small boats and seafood, all caught from the best French coasts and from artisanal fishermen.
The tempting menu offers Breton oysters, langoustines, brown crabs, sea urchins and blue crabs, beautifully composed fish pieces served whole, crudos with a refined touch, as well as recipes where tradition has the right tone for discovering a new look, such as mussels from Île de Groux roasted Kampot green curry, sliced ​​red mullet from our coasts, baker's potatoes, black garlic aioli and pistachio crusted sole, roasted celery, parmesan emulsion. Seafood dishes bring the bright smile of honest taverns.
In short, the choice is multiple and hard to choose.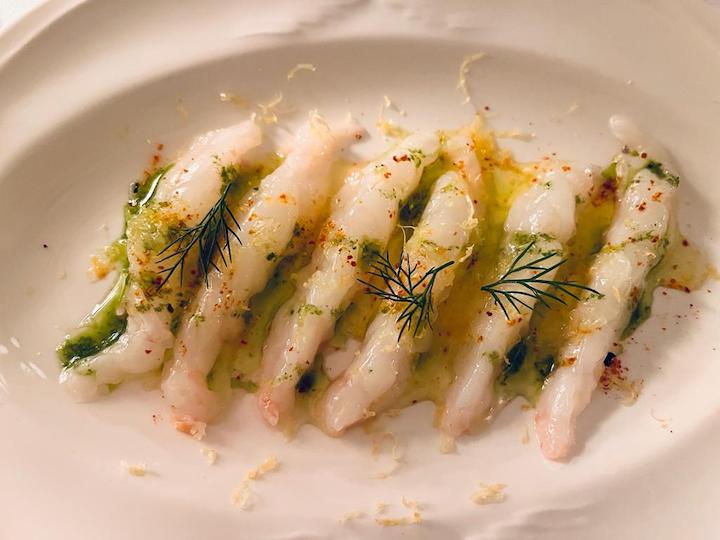 We'll choose the ravioli of blue lobsters and prawns marinated in a very tasty langoustine broth, raw langoustines that are savory and delicious, then for the sole of the small boats, the signature dish, of the chef, in a pistachio crust, roasted celery and parmesan emulsion is authentic while preserving its natural flavour. Scallops from the Normandy coast, mashed Jerusalem artichoke, caramelized endive, and bouillabaisse reduction are creamy and well presented. Behind a façade of azure ceramic scales, here is a chic bistro reminiscent of the 1920s with its coral decoration,
For desserts, all homemade, we will finish with a sweet vanilla and clover, very tasty and light, which matches us with a mille-ville as well as a chocolate tart because we are greedy!
My opinion :
A good restaurant to discover for all those who love seafood products that work here while preserving their initial flavour. The chef is very creative and loves to surprise. The staff are smiling and pleasant and now it's a must go. Restaurant to follow…
<< لقراءة أيضًا: الفائزون بدليل ميشلان 2023 | اكتشف 44 مطعمًا جديدًا حائزًا على جوائز >>>